After many years of professional experience ,and the l'esperienza maturata a Parigi in merito a "Air Traffic Control simulation in Bretigny"nonchè una innata passione per la programmazione di computer ,Giovanni Brambilla si è deciso a fare qualcosa per conto suo.
Ha iniziato quindi lo sviluppo di un simulatore di Radar "BARS"e successivamente di torre di controllo "ATCS",a cui abbiamo deciso di fornire il supporto commerciale e tecnico a Giovanni per portare avanti la sua splenndida idea. Attualmente questi due programmi vengono utilizzati da diverisi Istituti Tecnici Aereonautici Italiani per fini didattici.
Giovanni ha un sito che mantiene lui stesso per questi prodotti ed è http://www.brambo.it
Nallo specifico i programmi in questione sono:
BARS "Basic ATC Radar Simulator "
ATCS "Air Traffic Control Simulator"
BARS "Basic ATC Radar Simulator "
BARS (Basic ATC Radar Simulator) was created thinking to simulate an entire ACC,with one or more Radar Approaches.
It is composed of several parts:they are* Aircraft Manager System. This provides control over aircraft type that will be used into any simulation. You will input name,ICAO 4 digits description,some speed values (Vne,Vr,Cruising speed,Approach Speed,Landing Speed) and few climb/descend values at specified levels. There is also one utility that shows how plane will work with those parameters.
Area Manager System. This provides control over the ATS geography. You can input way points,Nav Aids,ICP,TSE,AWY,Restricted areas,Airports,ILS procedures,Radar Minima. It wholly works in geo coordinates,so you can take your AIP or Jeppesen manual and enter few ACCs or APPs .
Flight Manager. This provides the list of all exercises that will be simulated. Creating flights it's very,very easy.
Radar Screen. This is the Radar Controller position. It allows Zoom,Panning,ATS geography color set-up,you can hide/show AWY individually,WP,VOR NDB,Ghost (Phantom) points,Restricted Areas individually.Radar Handover is enabled.
Pilot Position. This position serves only one controller,but yuo can set two or more pilot positions to serve one controller. This is usefully for sector with high traffic density:this way controller can speck very quickly to all aircraft.
ACFT Position Computer (Server). This provides computing for all planes into simulation.
The standard version BARS is delivered with 4 Radar Position,4 Pilot Position and one Server Position. On this position there are two monitors:one Controls ACFT Position Computer and the other monitor is for teacher:this way he can supervisor simulation without interacting with students. Moreover the Server can be set in many different modes:since you have 4 Radar position u can setup the server in order to load the same exercise for each Radar Screen and run it independently:you got 4 radar simulator for basic training……. but you may set the server in order to a have two simulators running (each with 2 radar screen) simulating a two-sectors environment for intermediate training and run them independently……but u may set the server in order to have an advanced 4 sectors environment.
ACTS "Aerodrome Tower Control Simulator "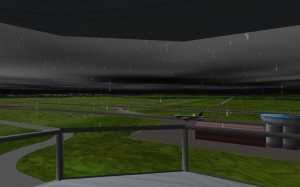 ATCS (Aerodrome Tower Control Simulator) was created thinking to aeronautics basic schools needs. In fact "both sides of simulation" (Controllers and Pilots) can see what is really happening on the airport and its vicinity from their own point of view during the whole simulation. It can be thought like 3D virtual reality.
Other simulators in fact manage pilot position "showing" plane position like a description:this way,of course,students can not learn nor understand what means having a traffic in sigh and follow it,staying away enough to allow the first to land without having to go around. or what "behind cessan 172 on final lime-up and wait behind"…
With ATCS these situations can be simulated because ALL pilots see what is happening ….. !!!
ATCS is composed by five software elements:
Some picture about ACTS:
Feel free to ask for further details at info@brambo.it . We will not send e-mail details but only to real address
Aeronautical laboratory of the Institute of Bergamo equipped with the ACTS simulator